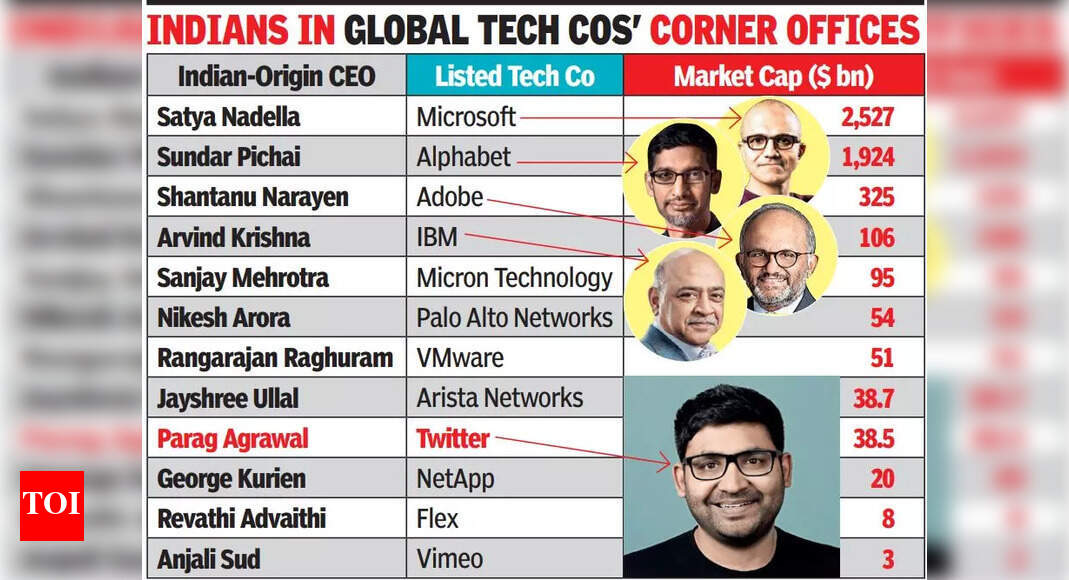 Twitter's Parag Agrawal becomes youngest and 12th Indian CEO to master global tech giants
At 37, Twitter's new CEO Parag Agrawal is not only the youngest CEO of the S&P 500, but also the latest to join the ranks of India-born techies, many of whom have studied at the country's leading tech institutions. and are now at the head of the global tech giants.
Twitter co-founder Jack Dorsey announced on Sunday that he had stepped down as CEO after spending nearly 16 years on the microblogging platform. The resignation takes effect immediately, with Agrawal now in charge. A former student of IIT Bombay, Agarwal joined Twitter in 2011 and rose through the ranks to become the company's Chief Technology Officer (CTO) in 2018. He also holds a PhD in Philosophy from the University. from Stanford, where he studied computer science and graduated. Twitter's new CEO has worked for companies such as Microsoft and AT&T.
Agarwal joins a growing roster of techies like Google CEO Sundar Pichai and Microsoft CEO Satya Nadella.
Born in Chennai, Pichai was elevated to CEO of Google in 2015, then took over as CEO of its parent company Alphabet in 2019. He is a B.Tech from IIT, Kharagpur and joined Google in 2004. Pichai led the key to the business. companies including Android, Chrome, Maps, etc.
Nadella took over Microsoft in 2014, when then CEO Steve Ballmer resigned. Nadella holds a BE from the Manipal Institute of Technology and an MS from Stanford. He also holds a Masters of Business Administration (MBA) from Wharton. Nadella began her career at Microsoft in 1992 as a developer of the Windows NT operating system.
While Nadella and Pichai are the heads of the world's largest and most powerful software companies, other CEOs born in India include Shantanu Narayen, CEO of Adobe. He has been at the helm since 2007. He obtained a Bachelor of Engineering degree from the University College of Engineering, Osmania University in Hyderabad, after which he moved to the United States to complete his studies. He holds an MBA from the University of California, Berkeley, and an MA from Bowling Green State University.
Electrical engineer from IIT Kanpur, Arvind Krishna became CEO of IBM in April 2020. He has been with the company for almost 30 years. Krishna graduated from the Indian Institute of Technology Kanpur and received his doctorate from the University of Illinois at Urbana-Champaign. Krishna led the IBM Cloud and Cognitive Software business unit from 2017 to April 2020 and was a key architect of the Red Hat acquisition, the largest acquisition in the company's history.
Sanjay Mehrotra, 63, is CEO of semiconductor solutions company Micron Technology. He was a co-founder of SanDisk, where he was President and CEO until its acquisition by Western Digital in 2016. Mehrotra held positions at Integrated Device Technology and Intel before co-founding SanDisk. Born in Kanpur, Mehrotra moved to the United States at the age of 18. He received his bachelor's and master's degrees from the University of California at Berkeley.
Nikesh Arora joined Palo Alto Networks as CEO in 2018. Prior to that, he held key positions at Google and SoftBank. Arora holds a BA from the Institute of Technology at the Hindu University of Banaras, an MBA from Northeastern University and an MSc from Boston College. He was born to a family in Ghaziabad, Uttar Pradesh and is the son of an Indian Air Force officer.
Raghu Raghuram joined VMware in 2003 and currently serves as the CEO of the company. Prior to VMware, Raghuram held product management and marketing positions at AOL, Bang Networks and Netscape. Raghuram holds an MBA from the Wharton School of Business and a Masters in Electrical Engineering from the Indian Institute of Technology in Mumbai.
Jayshree V. Ullal, 60, is President and CEO of Arista Networks, a cloud-based networking company. Ullal was named by Forbes magazine as "one of the five most influential people in the networking industry today" for her work at Arista Networks, and was named one of the "World's Best CEOs" of Barron in 2018 and one of Fortune's "20 best business leaders". people "in 2019. In 2014, she led Arista to an IPO on the New York Stock Exchange. She has worked with Cisco and AMD. She studied electrical engineering at San Francisco State University and earned a master's degree in engineering management from the University of Santa Clara.
George Kurian became CEO and President of data storage and management company NetApp in 2015. Prior to that, he worked with Cisco Systems, Akamai Technologies and McKinsey & Company. Born in Kottayam District, Kerala, he studied engineering at IIT-Madras, but left six months later to join Princeton University. He received his BS in Electrical Engineering from Princeton University and his MBA from Stanford University. George's diverse background also includes the role of vice president at Akamai Technologies, management consulting at McKinsey & Company and leading software engineering and product management teams at Oracle Corporation.
Revathi Advaithi has become Chairman and CEO of Flex, an American multinational electronics manufacturer headquartered in Singapore. Prior to Flex, Advaithi was President and Chief Operating Officer of the Electricity Sector for Eaton, an energy management company. Advaithi currently sits on the boards of Uber and Catalyst.org. She is also a member of the Business Roundtable, the MIT CEO Advisory Board, and the Catalyst CEO Champions For Change initiative. Ms. Advaithi has been recognized as one of Fortune's Most Influential Business Women for two consecutive years (2020, 2019) and named one of the Most Influential Women in Business in India (2020). She holds a BA in Mechanical Engineering from the Birla Institute of Technology and Science in Pilani, India, and an MBA from the Thunderbird School of Global Management.
Anjali Sud is CEO of Vimeo, an open video platform. Prior to joining Vimeo, Sud had worked with Amazon and Time Warner. Anjali Sud was born in Detroit to Indian parents who immigrated to the United States. She graduated from the Wharton School at the University of Pennsylvania in 2005 with a B.Sc. in Finance and Management. She received her MBA from Harvard in 2011 and took over as CEO of Vimeo in 2017.